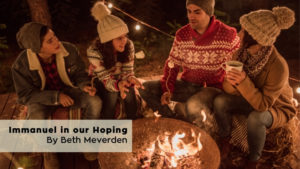 "Faith shows the reality of what we hope for; it is the evidence of things we cannot see."
Hebrews 11:1
There have been so many unknowns for all of us in 2020. Will our family get the virus? Will my
children get to go back to school full-time or do we have to juggle a hybrid or online only
schedule? Will masks be a constant reality for us like they are in other countries? What will
Christmas be like this year?
We are on the other side of some of those questions and many of us have become more
resilient, stronger, and continue to be hopeful as we await the answers to the rest of our
questions.
This year has been a reminder that God is with us even through sickness, fears, and loss (of life,
expectations, and hopes). We all had different ideas of what 2020 would look like. We still have
hopes that our school year will turn out the way we'd like (children getting to stay in school and
not being quarantined, homeschool children staying safe from the virus while at home), but we
must trust God to teach guide us through this experience.
We can make our plans, but the LORD determines our steps. Proverbs 16:9
There are many unknowns in our lives with our children, our grandchildren and experiences yet
to come. We simply can't know what's to come for any of us or why some things are
happening, but our God is with us and He can be trusted no matter what is going on around us
or in us. He will lead us if we'll listen to Him.
"Trust in the Lord with all your heart, in all your ways acknowledge Him and He will make your
paths straight." Proverbs 3:5-6
Here are a few practical lessons from 2020 we can put into practice for 2021.
Don't trust in your planner, trust in the One who has plans already set for you and
follow His lead.
Flex with and walk forward with anticipation toward the plans He has for you in 2021
instead of mourning over what you wanted 2020 to look like, knowing His ways and
plans are best.
Pray for your children to learn these lessons, too, and become more resilient people
through this experience.
Pray for God to give you flexibility with His plans and trust in His leading as you train your children in how to be a resilient follower of Jesus Christ in 2021. God is with you.